If you are searching for the best woodworking tools out there in the market, you will find table saw and miter saw as the ultimate option in the long run. Very few tools are available out there that can make your DIY woodworking projects for beginners a successful one.
On that note, using the best miter saw, or the best table saw can come real handy for you. This is because both of these saws are easy to handle and extremely safe to use.
There are also cordless drill and circular saws. But, miter saw, and table saws are commonly used tool among the professionals. You can anytime walk around in a local hardware shop and wonder about the best wood working tool. You will find the salesman referring you to either the table saw, or the miter saw.
But, the whole thing completely depends on your choice and method of working. When you are all-set to initiate DIY woodworking projects for beginners, it is high time that you pick the best tool. That is why, today, you will find a thorough guideline comparing the miter saw, and table saw. You will then recognize which is better for which purpose, and in the end, which one you shall buy.
Miter saw vs. Table saw: A General Overview
While purchasing the best woodworking tools for your next DIY project, you must go to the local shop, right? There you can roam around sometime to know about the tools that are available. But, you can spare some time out that. Here, you will know how to use a table saw, and how use miter saw as well eventually.
What is a Miter Saw?
What miter saw is extremely popular among the woodworkers. They are highly specialized in making cuts of various angles. The Miter saw comes with a blade on a swinging arm that allows for pivoting left or right for offering the desired cuts. The best miter saw is used to cut picture frames, window casings, door frames and so forth.
What is a Table Saw?
As the name suggests, table saw has a blade that is mounted on a table. It offers stable cut while you are in need of groove cuts, straight cuts, and joint cuts. The best table saw is perfect for making quick cuts. As the blade remains in a fixed place, the operator feels safe while working with it.
When you are all set to start a DIY project that included wood, a miter saw can come as a relief to you. It offers you the flexibility to make the most angle cuts in any material.
You will be glad to know that miter saws avail in various types, compounds, standards, and blade categories. The standard miter saw can cut through any material with 90-degree angle leave 45-degree angle on both sides. The compound miter saw can tilt right or left to offer a certain angle cut.Due to such complexity, it has that name. The sliding miter saw offers horizontal cut.
To recognize how to use a miter saw at best, you should know which one do you need. If you need a compound miter saw, go for it. Or, if you think the standard one will work for your straightforward DIY project, do not hesitate to pick this one. Or else, you can always go for the sliding miter saw.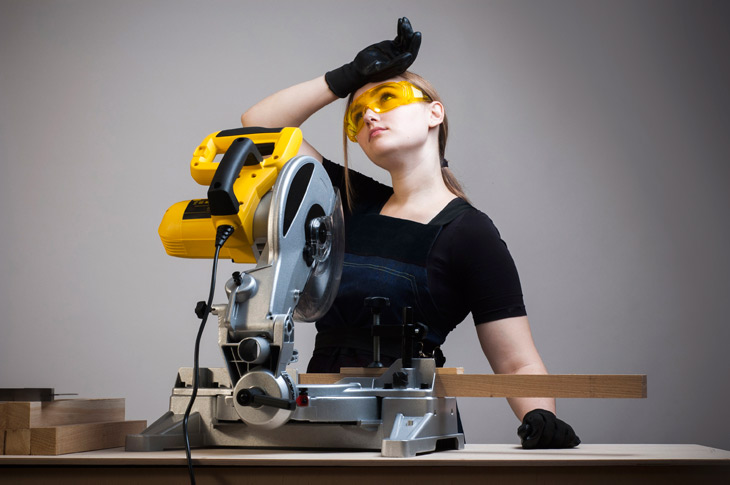 While choosing the finest miter saw, do not just look up for the quality. You need to make sure about the price range as well. Yes, it is true that the more you will spend, the better you would get. But, there has to be a limitation, right? Especially, when you are working on a DIY project, you would not want to spend a lot of money on a certain woodworking tool. The finest miter saws price range can vary from $100-$1500.
Before starting to work on your project, make sure you have adequate space around you to maneuver the saw more proficiently. You may need a bench, or a table to work with saw with sheer stability. If you have to work with a horizontal material or a long material, you won't have to go to a bench. The floor is better in that case.
To understand the working methodology of a miter saw better, you need to learn about its accessories and body parts. There are locking mechanism, blade guard, angle indicator, power switch, and so forth to help you in working gracefully.
While starting to work with the best miter saw, you shall raise and lower it for sometimes. It will help you to make precise cut letters and get used to the saw's functionality.
Make sure you have all the necessary safety equipment with you. Do not keep your finger very close to the blade and hold the machine, strongly while working with it.
Now doubt that table saw is another most popular woodworking tool out there. But, to know how to use a table saw properly, you have to follow some rules. It will help you to find which saw is better for your work. Is it miter saw? Or, is it a table saw?
What the main cutback of using a table saw is the back injury that causes by continuous working with the machine. It mostly happens when you work with it, but the blade pushed you far from the fence. The table gets drifted away, and you would suffer from back pain for a long time. What to do then?
Never stand straightly behind the table saw. Before that, make sure all the legs of the table are stable, and your floor is horizontal to support that up.
While working, make sure the table saw's blade is always eight to nine inches above the cutting surface. It will allow you to move the object to and fro while needed.
Try not to work outside. It can harm the cutting mechanism of the table saw. Most importantly, your table saw will remain clean and away from all the outside dirt. Most of the table saw gets ruined by the rain water.
Never pull the material backward while cutting it with the table saw. It is extremely dangerous.
Always put your hand or finger at the edge of the material. Do not move it while the saw is making the cuts.
Conclude
So far, you have seen the detailed usage of the miter saw, and table saw. If you have to conduct difficult cut with the tough angle, a miter saw is the best option. But, when you do not have to do such, a table saw can give you the ultimate edge. In this post, we have tried to compare between Miter Saw and Table Saw. If you are satisfied with this article, please share it with your friends and comment below.